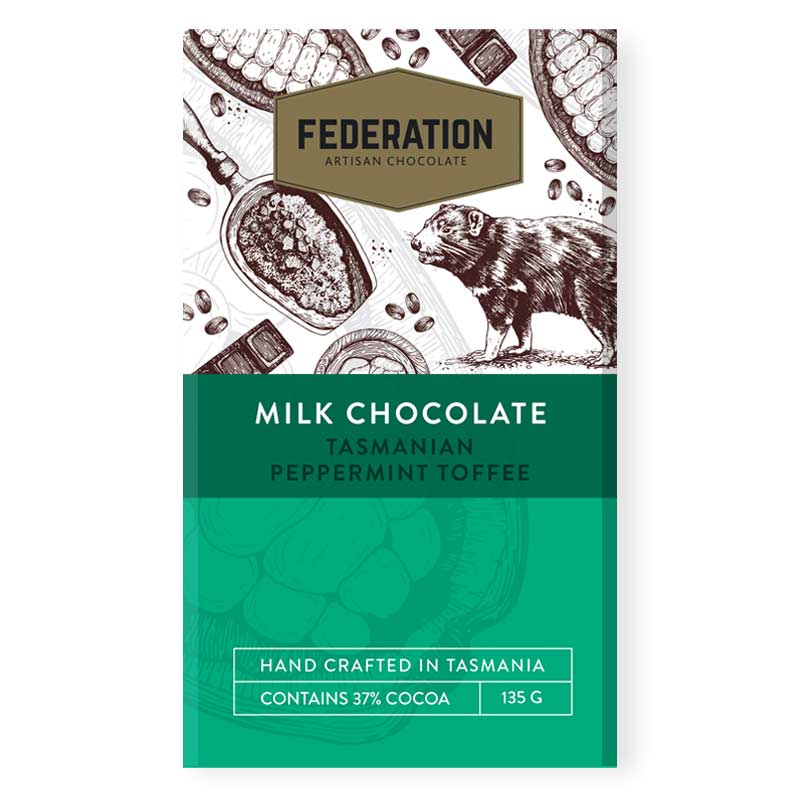 The Tasmanian Handmade Mint Delight Chocolate is a truly delightful treat that combines the best of Tasmanian ingredients with expert chocolate-making techniques. The peppermint oil used in this chocolate is grown and extracted locally in Tasmania, ensuring that only the freshest and highest quality ingredients are used.
In addition to the peppermint oil, this chocolate also features Mint toffee Chips that provide a satisfying crunch and burst of flavor with every bite. The combination of these two ingredients with the smooth and creamy milk chocolate creates a refreshing and minty taste that is perfect for any occasion. Whether you're looking for an after-dinner treat, a mid-day pick-me-up, or simply a special indulgence, the Tasmanian Handmade Mint Delight Chocolate is sure to satisfy.
The chocolate is lovingly made by the Curtis family at the Federation Chocolate Factory, where they are passionate about using only the best Tasmanian ingredients in their products. With their expert knowledge and commitment to quality, you can be sure that every bite of this chocolate is a true taste sensation. So why not treat yourself or someone special to the delicious Tasmanian Handmade Mint Delight Chocolate today?