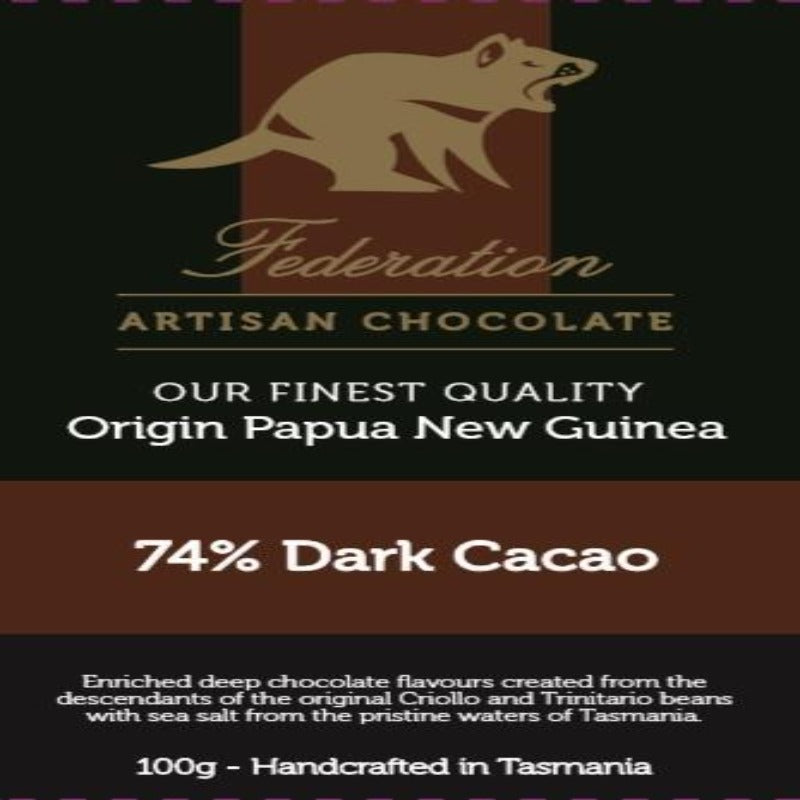 The Single Origin Papua New Guinea 74% Dark CACAO is truly a special chocolate that has a unique flavor profile. The chocolate is made using cacao beans sourced from the fertile cacao fields of Papua New Guinea. The beans are carefully selected and dried over open fires, which imparts a touch of smokiness to the chocolate.
What sets this chocolate apart is its creamy rich chocolate base, which is complemented by a slightly bitter undertone. Despite its richness, the chocolate has a smoothness that is unparalleled, making it a delight to savor.
This chocolate is the closest one can get to experiencing an Australian grown bean. The chocolate is handmade at the Federation Artisan Chocolate factory located in the Coal River Valley, just a few minutes away from the historic town of Richmond. The chocolate is a testament to the skill and craftsmanship of the artisans who produce it.
In summary, the Single Origin Papua New Guinea 74% Dark CACAO is a dark, rich, and amazing chocolate that is sure to captivate your taste buds. Its unique flavor profile and the craftsmanship that goes into making it truly make it a special treat that you won't want to miss.
Federation Artisan Chocolate now located at 1314 Richmond Road Richmond at Every Man and His Dog Vineyard,