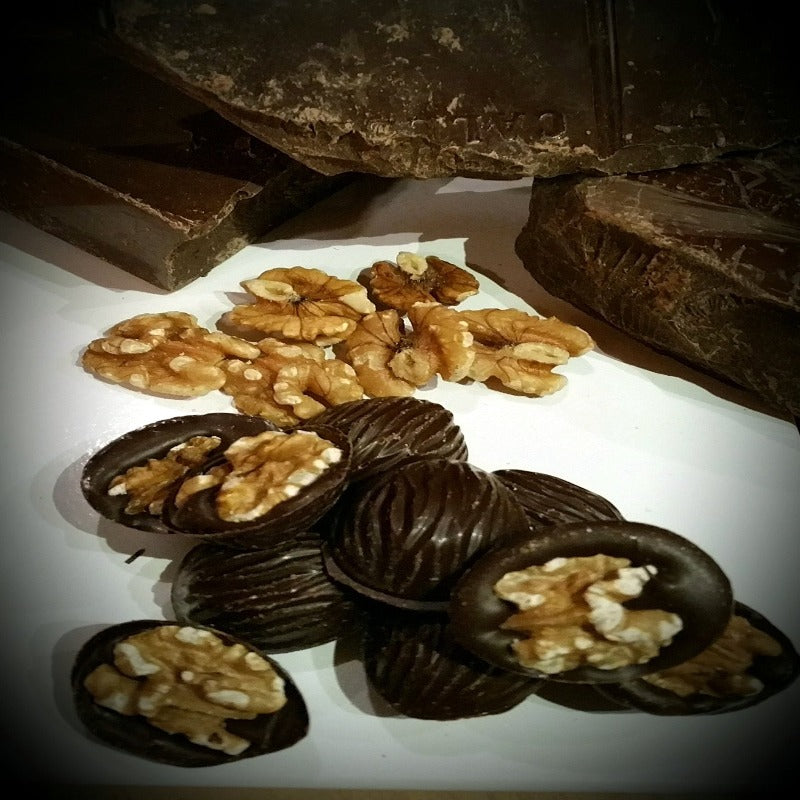 Federation Chocolates combines the rich, decadent taste of dark couverture chocolate with Tasmanian walnuts to create a unique and indulgent flavor profile. Dark couverture chocolate is made with a higher percentage of cocoa solids than milk chocolate, resulting in a more intense chocolate flavor and a slightly bitter taste. The 56% cacao content means that the chocolate has a higher percentage of cocoa solids compared to other types of dark chocolate, which typically have around 70% cacao content.
Tasmanian walnuts are known for their high quality and delicious flavor. In this case, they are paired with the dark couverture chocolate to create a contrast of flavors - the bitterness of the chocolate is balanced by the nutty sweetness of the walnuts. Like the milk chocolate version, the chocolate is molded into a special walnut shell, adding a satisfying crunch and texture to the overall experience.
Each pack contains 10 pieces, making it a perfect option for sharing with friends or family, or for indulging in a little bit of luxury for yourself. The chocolates are also gluten-free and dairy-free, making them a great option for those with dietary restrictions.
Overall, the combination of dark couverture chocolate and Tasmanian walnuts creates a truly special flavor experience. The bitterness of the chocolate is perfectly balanced by the sweetness of the walnuts, creating a rich and indulgent taste that is sure to delight any chocolate lover.