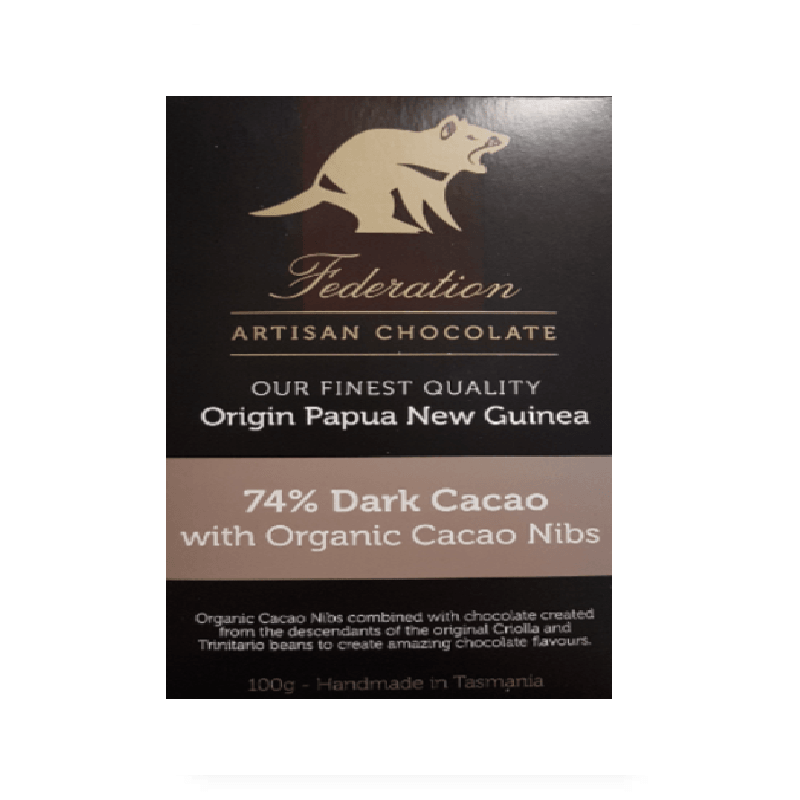 Our 74% Dark CACAO With Organic Cacao Nibs created from Organic Cacao Nibs combined with chocolate created from the descendants of the original Criolla and Trinitario beans to create amazing depth of cocoa and chocolate flavours.
This is a Full-bodied dark chocolate; masterfully crafted to be smooth and rich with profound cocoa flavour and surprisingly balanced taste.
For chocolate aficionados who crave the ultimate taste experience, our 74% Dark Cacao with Organic Cacao Nibs chocolate bar is a must-try. This exquisite bar combines the rich, full-bodied flavor of organic cocoa with the finest ingredients.
To create this premium chocolate, we source original Criolla and Trinitario cocoa beans, carefully crafted into small-batch chocolate bars. With more cocoa and less sugar, our Dark CACAO With Organic Cacao Nibs bar is a healthier indulgence.
Not only is it delicious, but it's also made sustainably and ethically, free from palm oil and preservatives, and uses only premium, gluten-free, and vegan-friendly ingredients. We take pride in creating this chocolate bar with organic cacao and without any harmful additives.
This 100g bar makes a perfect gift for chocolate lovers, friends, work colleagues, and neighbors. You can also visit us at 3 Victoria Street in Hobart Tasmania, just a short five-minute walk from Salamanca or the center of the city.
Please note that our special online price is available exclusively through our online store. Try our 74% Dark Cacao with Organic Cacao Nibs chocolate bar today and experience the true taste of premium chocolate.
Vegan Friendly
Gluten Free
Dark Chocolate