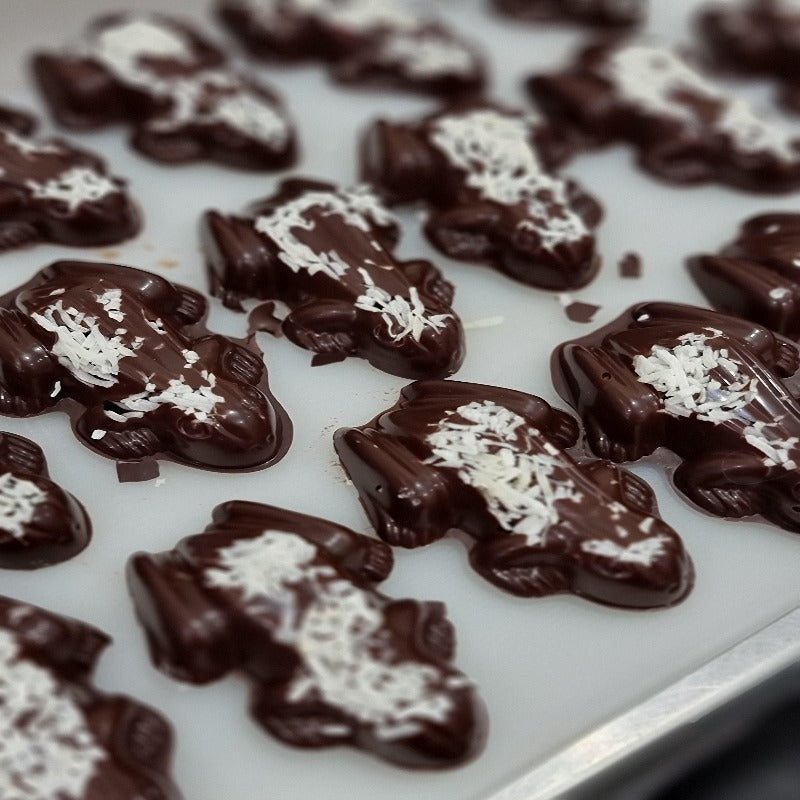 Indulge in the mouth-watering combination of Peruvian organic dark chocolate and delicious coconut, and let it transport you to the warmth and happiness of summer days. This delectable treat is handcrafted with care in Hobart Tasmania, using only the finest quality ingredients. Each pack contains four chocolate frogs, making it the perfect size to share with your loved ones, or to indulge in a moment of pure bliss by yourself.
This chocolate is not only delicious, but it is also gluten-free and vegan-friendly, making it an ideal treat for people with specific dietary requirements. The use of organic Peruvian dark chocolate and fresh coconut adds a unique and authentic taste to the chocolate, ensuring that every bite is a true delight for the senses.
The process of hand-making this chocolate ensures that every piece is carefully crafted to perfection, creating a truly artisanal product that is unlike any other. The rich and velvety texture of the dark chocolate blends perfectly with the sweet, tropical flavor of the coconut, creating a heavenly combination that will have your taste buds dancing with joy.
Whether you are looking for a special treat to share with friends and family or a guilty pleasure to indulge in on your own, our Peruvian organic dark chocolate with coconut is sure to hit the spot. So, take a break from your busy day, sit back, relax, and enjoy the pure bliss of our delicious chocolate frogs.