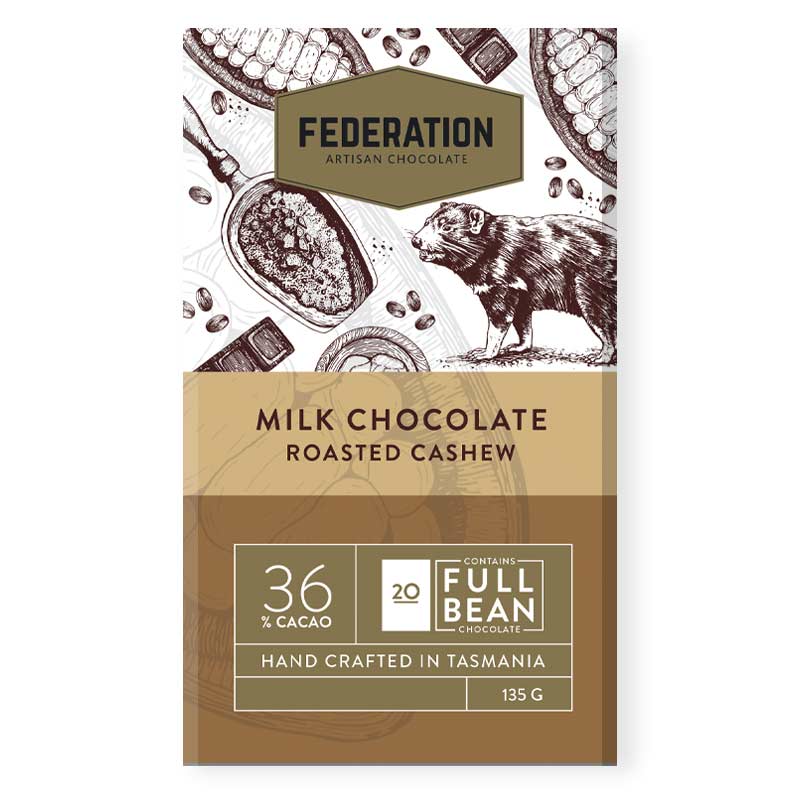 Tasmanian Handmade Roasted Cashew Chocolate is a delectable treat that combines the goodness of roasted cashews with smooth and creamy milk chocolate. At Federation Chocolate, located in the beautiful Coal River Valley of Tasmania, we take pride in using only the freshest and highest quality ingredients to make our chocolate.
We carefully roast the cashews to perfection to bring out their natural sweetness and nutty flavor. Then, we crush the cashews to create small crunchy pieces that are perfect for adding texture to our chocolate. Next, we fold these delicious cashew pieces into our famous milk chocolate, creating a flavor sensation that is sure to delight your taste buds.
The cashews not only add a wonderful crunch to the chocolate but also create an added creaminess to the overall texture. This, combined with the nutty undertones, makes for a truly delicious and satisfying treat.
Our Tasmanian Handmade Roasted Cashew Chocolate is made with care and attention by the Curtis family, who have a passion for creating high-quality products that people will love. We use traditional methods and techniques to ensure that every batch of chocolate is made to perfection.
So if you're looking for a delicious and indulgent treat that's made with love and care, try our Tasmanian Handmade Roasted Cashew Chocolate. Made in Tasmania, it's a taste of the beautiful island state that you won't forget!