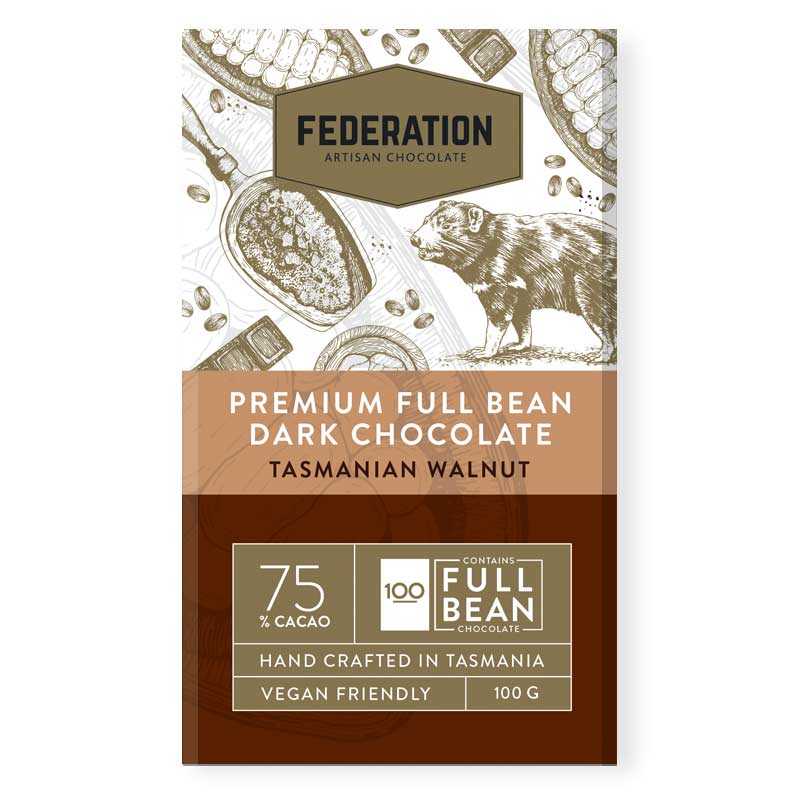 Our Single Origin 74% Dark CACAO with Tasmanian Walnuts is truly an exceptional treat that is sure to delight any chocolate lover. We source only the finest cacao beans from small, family-owned farms across the globe to ensure the highest quality and most flavorful chocolate. These beans are then carefully crafted by our expert chocolate maker, Maurice Curtis, using traditional techniques to create a chocolate bar that is truly one-of-a-kind.
The 74% dark chocolate has a deep, rich flavor that is both bold and complex, with a hint of bitterness that perfectly balances the sweetness of the chocolate. The addition of fresh Tasmanian Walnuts adds a delicious nutty crunch and a buttery texture to the chocolate, elevating the overall flavor profile to new heights.
From the moment you take your first bite, you will be transported to a world of pure chocolate bliss. The smooth, velvety texture of the chocolate will melt in your mouth, releasing its rich, intense flavor and leaving you with a feeling of pure indulgence.
We invite you to come and experience the sensation for yourself at our new chocolate space located at Every Man and His dog Vineyard, nestled in the heart of Richmond. This idyllic setting is the perfect home for Federation Artisan Chocolate, where we are committed to creating the finest, most exquisite chocolates for our discerning customers. So why not treat yourself to a bar of our Single Origin 74% Dark CACAO with Tasmanian Walnuts today and discover the true taste of luxury?