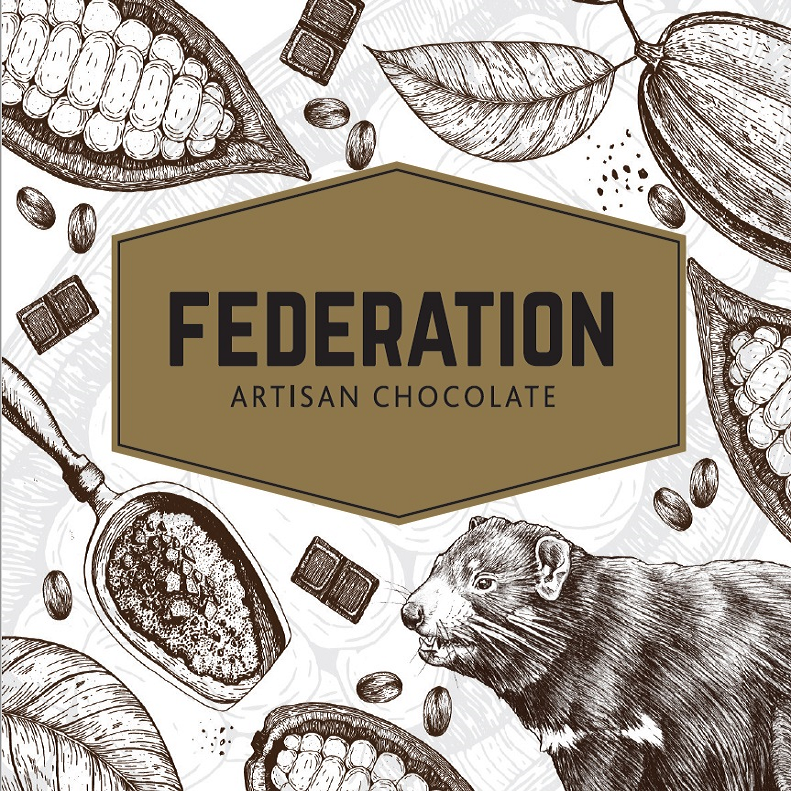 Very proudly we have been notified that we are 2021 Tasmanian  Peugeot INNOV8RS.
The INNOV8RS is a national competition to find Australia's most innovative small businesses. 
Read the full article here -
Written by: Cec Busby
Australia has produced a plethora of artisan chocolatiers but what makes our TAS Innov8rs winner stand out from the rest is owner Maurice Curtis's dedication to the craft. .... With Chooclate created from scratch. It's a farm-to-table approach that ensures Federation Chocolate has control of the process from bean to bar.
It's a labour of love for Maurice and his wife Helen, a fellow chocolate fanatic. The duo first purchased Federation Chocolate back in 2014. At the time Federation Chocolate was already a local legend. The factory produced commercial quantities of chocolate and was known for its basic chocolate blocks. However, Maurice and Helen had something else in mind for the business.
The couple decided their Willy Wonka dreams would be made of sweeter stuff.  In a quest to turn Federation Chocolate into one of the best chocolate producers in Australia, the pair turned to traditional methods. Nothing is done quickly at Federation. Each bespoke piece of chocolate-y goodness is lovingly made. And it all starts with the cacao bean.
Where other chocolatiers might just melt down someone else's chocolate to produce their wares, at Federation it's a painstaking process that begins with bean selection.
"Our cacao beans come from all over the world, from small farms where it is grown ethically and sustainably. The cacao beans are transported to Taranna in Tasmania where we hand sort, roast and break apart the bean, keeping the nib," explains Maurice.
"We use 200-year-old chocolate-making techniques to make our chocolate."
And what a technique. The work begins even before the bean lands at Federation. The cacao pods are harvested, pulped, fermented for up to ten days then dried in the sun for a week before being bagged and shipped to Australia.
"Once we receive the beans, we sort and roast them before removing their husks to create cacao nibs. These nibs are then stone ground for a varying amount of time to create chocolate liquor. In the process of grinding the nibs it releases fat from the cacao creating the chocolate liquid," explains Maurice.
This liquor is then aged for between two weeks or three months depending on the flavour profile and used as the main ingredient in Federation's chocolate bars.
"Each bean supplier grows their beans in a different region and microclimate. This then translates into different levels of fat and cacao in the bean, which comes through in the flavour of the chocolate liquor. By then managing the length of aging applied to the liquor, we can create some wonderful and unique flavours in our chocolate."
Tantamount to this process is the sourcing of their beans. While chocolate may be sweet, its production has a long and often unethical history. The Curtis's wanted no part in this.
"One of the difficult things with the supply chain is you can never really tell where something comes from. A lot of the difficulties with chocolate is a lot of farms where cacao is grown, deal with unethical farming, using child labour and aren't sustainable.
"So, for us, it became paramount that if we were to sell a product everyone enjoys, it couldn't cause harm. We trace where every ingredient comes from, making sure that slavery and child labour is not used in the creation of any of our special products."
The Curtis's want all Australians to share their passion for ethical and sustainably produced chocolate. To educate the public they have thrown open the doors to their factory. Visitors can see every step of the chocolate-making process.
"We use the opportunity to inform and educate visitors on the process of making chocolate and why small-batch chocolate makers are so important," Maurice says