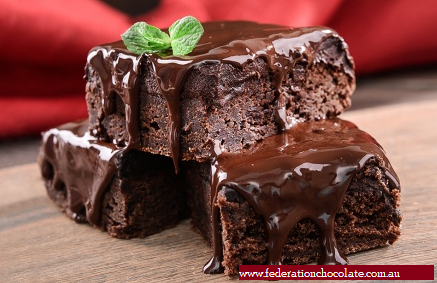 "I want Chocolate Cake for Breakfast" my 4 year old self calls out as I walk past the fridge at 6am in the morning. Of course my first response is you can't do that, but wait new research shows that not only does chocolate cake have benefits but eating chocolate cake for breakfast may improve your brain function and help reduce your waistline.
A recent study at Syracuse University in New York has shown that Chocolate has a positive effect on cognitive performance and if eaten regularly can improve your memory and abstract thinking.
A further study at the Tel Aviv university reveled a more surprising find. Eating chocolate cake for breakfast every morning helped subjects work and could also help in reducing peoples waistlines. Its all down to how the body is more efficient in processing food first thing in the morning and the brain needing energy when you first wake in the morning. This helps to stop the weight gain and give the brain an extra boost for the day. Eating before 9 am showed the best effect for this.
Flavonoids  are the big health benefit in plant based foods and these are very high in Cocoa beans. The key is to pick a high quality less processed chocolate like our 74% Dark Cacao Papua New Guinea Dark. Yes buying this can be Healthy and full of exceptional chocolate flavours.
Here is a favourite chocolate cake recipe made just for breakfast
 Dark Chocolate Cake

200g dark chocolate
(Recommended Dark Cacao Papua New Guinea Dark.), chopped
200g butter, cubed
1 tbsp instant coffee granules
85g self-raising flour
85g plain flour
¼ tsp bicarb of soda
200g brown sugar
200g  caster sugar
25g cocoa powder
3 medium eggs
75ml milk
grated chocolate
or curls, to decorate Ganache
200g dark chocolate
(70% Origin Australia Dark), chopped
300ml cream
2 tbsp  caster sugar

Heat the oven to 160C/fan140C/. With Butter line a 20cm round cake tin (7.5cm deep).
Put the dark chocolate in a microwave dish with the butter. Mix 1 tbsp instant coffee granules into 125ml cold water add to chocolate and melt in the microwave for about 5 minutes, stirring halfway through.
Mix the self-raising flour, plain flour, bicarbonate of soda, brown sugar and caster sugar with the cocoa powder . Beat the eggs with the milk.
Pour the melted chocolate mixture and the egg mixture into the flour mixture and stir everything until it is smooth
Pour this into a cake tin and bake for 1hr 25 – 1hr 30 mins. If you push a skewer into the centre it should come out clean and the top should feel firm . Leave to cool in the tin  then turn out onto a wire rack to cool completely.
Cut the cold cake horizontally into three.
 Ganache: put the dark chocolate in a bowl. Pour the cream into a pan, add the  caster sugar and heat until it is about to boil. Take off the heat and pour it over the chocolate. Stir until the chocolate has melted and the mixture is smooth. Cool until it is a little thicker but still pourable.
Sandwich the layers together with just a little of the ganache. Pour the rest over the cake letting it fall down the sides and smooth over any gaps with a palette knife. Decorate with grated chocolate or a pile of chocolate curls. The cake keeps moist and gooey for 3-4 days.